Truck Accident Attorneys In New Orleans
You've Been Hurt in a Truck Accident. Now Get the Compensation You Need.
Each year there are over 500,000 accidents involving trucks. Of those, 100,000 result in serious injury. Because of their massive size, trucks often cause more damage than a typical car.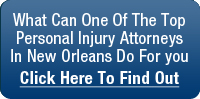 Truck accident injuries are often severe and can include broken bones, brain injuries and spinal cord damage. If you, or a loved one, have been involved in a truck accident, you know how devastating it can be.
Victims of Truck Accidents Face:
Severe injuries;
Lost time at work;
Continuing disabilities;
Property damage.
If only the truck company would rush to make things right. Unfortunately, its insurance company is often focused on one thing—paying as little as possible.
Its team of agents can be on the scene before the police have cleared everything away. They know how to hide behind technicalities and use state and federal laws against you.
You need the help of an experienced truck accident attorney. Someone who understands state and federal laws, and will hold the truck and insurance company responsible.
Hi, my name is Mike Gertler. I'm a truck accident attorney in New Orleans and a managing partner of the Gertler Law Firm – a Personal Injury Law Firm based in New Orleans, Louisiana.
For over 35 years we've been helping victims of truck accidents get the compensation they deserve. We'll put our years of experience to work for you too.
We've Been Able to Get Clients Compensation For:
Pain and suffering;
Psychological damage;
Future assistance;
Loss of past and future income;
Past and future medical expenses;
Damage to property.
You probably have a lot of questions. That's understandable. We're not here to pressure you. We're here to help you through this difficult time. So call our office, tell us what happened, and we'll make sure you fully understand all your legal options.
You can reach us at 504-581-6411…. Or if the call is long distance, use our toll-free number at 877-581-6411.
The call or meeting is confidential – and absolutely FREE.
Our firm operates on a contingency fee basis. If we move forward on your case, we do not charge for our services unless we succeed in getting you a settlement or are successful in the courtroom. If there is no award or settlement, you won't have to pay for any costs or expenses related to your case.