Nursing Home Abuse & Negligence
Are You or a Loved One the Victim of Nursing Home Abuse?
Placing a loved one in a nursing home isn't an easy decision.   You made the choice so they could get the best possible care.   However, you've already uncovered abuse or neglect.   You want to keep your loved one safe, but how do you hold the nursing home and staff responsible?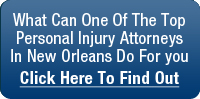 Hi, my name is Mike Gertler.   I'm a nursing home abuse attorney in New Orleans and a managing partner of the Gertler Law Firm – a Personal Injury Law Firm based in New Orleans, Louisiana.
I help victims of nursing home abuse hold their offenders responsible.
Abuse Can Take Many Forms:
Physical and medical neglect;
Physical and emotional abuse;
Sexual abuse;
Exploitation.
Your loved one didn't ask for this.   The nursing home failed to provide them with the proper care.   They didn't hire enough employees or didn't train their staff correctly.    Either way, your loved one is left hurting.
Nursing Home Abuse Can Result In:
Unnecessary amputations;
Falls;
Bedsores;
Broken bones;
Brain injuries;
Humiliation;
Embarrassment.
The nursing home will vigorously defend itself, but I'm committed to protecting your loved one's right to dignity and quality care.
If you choose to hire us, we won't back down.   We'll work to get your loved one the compensation they need.
But we understand you don't want to be pressured, so call us for a free consultation.   We'll answer all your questions and make sure you fully understand your legal options.   Most importantly, we'll treat your loved one with the dignity and respect they deserve.
Call us at 504-581-6411…. Or if the call is long distance, use our toll-free number at 877-581-6411.
The call or meeting is confidential – and absolutely FREE.
Our firm operates on a contingency fee basis.   If we move forward on your case, we do not charge for our services unless we succeed in getting you a settlement or are successful in the courtroom.   If there is no award or settlement, you won't have to pay for any costs or expenses related to your case.