Motorcycle Accident Attorneys In New Orleans, Louisiana
Motorcycle Injuries Can Be Severe. Do You Have an Attorney That Can Get You the Compensation You Deserve?
Over 80% of all reported motorcycle accidents result in injury or death. Motorcyclists are often hurt more seriously than a typical accident victim. They can experience brain trauma, require amputation and sustain multiple internal injuries.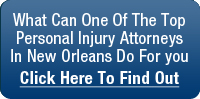 Accidents happen, but if the other driver was negligent, they need to be held responsible. If you've been injured in a motorcycle accident or have a loved one who's been killed, you may be left wondering what to do.
You're facing high medical bills, lost wages, mountains of paperwork from the insurance company and perhaps a long-term disability. You need an advocate.
You need someone who understands what you're going through, and also how to get you the compensation you need.
Hi, my name is Mike Gertler. I'm a motorcycle accident injury attorney in New Orleans and a managing partner of the Gertler Law Firm – a Personal Injury Law Firm based in New Orleans, Louisiana.
Because of another driver's carelessness, you're facing life-changing injuries. Or worse, you've lost a loved one in a motorcycle accident.
I've helped clients just like you get the compensation they so desperately need. This can include:
Lost wages;
Medical bills;
Property damage;
And compensation for pain and suffering.
You probably feel overwhelmed and have a lot of questions. We understand. Call us for a free consultation. We'll answer your questions and clearly explain all your legal options.
You aren't in this alone. We're here to help.
Call us at 504-581-6411…. Or if the call is long distance, use our toll-free number at 877-581-6411.
The call or meeting is confidential – and absolutely FREE.
Our firm operates on a contingency fee basis. If we move forward on your case, we do not charge for our services unless we succeed in getting you a settlement or are successful in the courtroom. If there is no award or settlement, you won't have to pay for any costs or expenses related to your case.