**Caution: Out of State law firms that advertise on television are not subject to the Louisiana Rules of Professional Conduct, which protect Louisiana Citizens from deceptive and improper conduct. Choose The Gertler Firm Instead.
Mesothelioma Legal Assistance In New Orleans, Louisiana
If You've Been Diagnosed with Mesothelioma, Get the Help of an Experienced Attorney.
You didn't know. You were simply doing your job, or maybe a loved one brought asbestos home on his clothes. Either way, you were exposed, and now you've been diagnosed with Mesothelioma.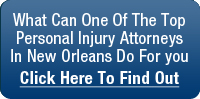 There's no cure for the cancer caused by exposure to asbestos. Decades may have passed since you came in contact with it. Now you have Mesothelioma, and it's stealing your life.
This isn't your fault. The companies who manufactured and sold asbestos products knew the danger, and hid the truth.
Because of Their Wrong Choices, You're Facing:
A deadly cancer;
High medical bills;
Leaving your family exposed to the many issues this disease brings.
The companies responsible for your cancer need to be brought to justice. You need an experienced Mesothelioma attorney who will fight for you. Who will gather the evidence and make sure you get the justice you deserve.
Hi, my name is Mike Gertler.  I'm a Mesothelioma attorney who has represented clients just like you. I'm also a managing partner and one of the founders of the Gertler Law Firm – a New Orleans, Louisiana Personal Injury Law Firm.
You May Be Entitled To Compensation For:
Lost wages;
Medical bills;
Funeral expenses;
Travel expenses related to medical treatments;
Expenses not covered by insurance;
Pain and suffering;
Mental anguish.
As your attorney, I'll help you bring the people responsible for your cancer to justice. I'll help you get compensation not just for yourself, but also for loved ones.
Nothing about confronting Mesothelioma is easy.  But you don't have to do it alone. Call me today. Share your story. Ask questions. And see if I'm the right attorney for you.
Please call our office at 504-581-6411…Or if the call is long distance, use our toll-free number at 877-581-6411.
The call or meeting is confidential – and absolutely FREE.
Our firm operates on a contingency fee basis. If we move forward on your case, we do not charge for our services unless we succeed in getting you a settlement or are successful in the courtroom. If there is no award or settlement, you won't have to pay for any costs or expenses related to your case.