Injuries From Dog & Animal Bites
Have You or a Loved One Been Attacked By a Dog?
If you've been attacked by a dog, you know how devastating it can be.   The attack not only leaves physical scars, but emotional ones.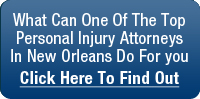 You were going about your day when you were suddenly attacked.   You did nothing wrong, but the animal still bit you.   And it could have all been avoided if the owner had taken responsibility for their animal.
Most likely they knew they had a dangerous dog, but didn't do enough to keep it restrained.   And now you're left with the scars.
What do you do?   How do you hold the owner responsible for what happened?
The first step is to hire a qualified dog bite attorney.   Someone who understands how dog attack cases work and knows how to get you the compensation you deserve.
Hi, my name is Mike Gertler.   I'm a dog bite attorney in New Orleans and a managing partner of the Gertler Law Firm – a Personal Injury Law Firm based in New Orleans, Louisiana.
I've worked with clients like you who have been attacked by a dog.   In a dog bite case you need to prove that:
The dog caused your injuries;
The injuries could have been prevented by the owner of the dog;
The injuries did not result from your provocation of the dog.
That's why you need an experienced dog bite attorney to investigate the case and get you the compensation you deserve.   I fight for each of my clients and help them hold negligent owners responsible.
You May Be Entitled To Compensation For:
Medical bills;
Pain and suffering;
Lost income;
Disfigurement;
Disability.
You probably have a lot of questions.   That's okay.   Give me a call, and I'll answer them.   I'll also make sure you fully understand your legal options. No pressure. Just straight forward answers.
Call us at 504-581-6411…. Or if the call is long distance, use our toll-free number at 877-581-6411.
The call or meeting is confidential – and absolutely FREE.
Our firm operates on a contingency fee basis.   If we move forward on your case, we do not charge for our services unless we succeed in getting you a settlement or are successful in the courtroom.   If there is no award or settlement, you won't have to pay for any costs or expenses related to your case.