Construction Accident Attorneys In New Orleans, Louisiana
An Attorney Who Understands Construction Accidents and Will Fight for You and Your Rights.
Working on a construction site is dangerous. The heavy machinery, building materials and chemicals must all be handled with care. Regulations, inspections and safety programs are in place to keep construction workers safe.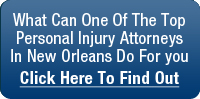 Unfortunately, it doesn't always work that way. If you, or a loved one, have been injured in a construction accident, you know how devastating it can be.
Construction Injuries Can Cause:
Broken bones;
Spinal cord injuries;
Life-long disabilities.
You also have to deal with large medical bills, lost wages and long-term rehab. Worker's compensation can help, but it is rarely enough to cover all your expenses.
You may be left wondering how did this happen? Often employers decide to cut corners. They needed to speed up the project or save money, and they gambled with your safety.
If you were injured because of a construction company's negligence or violation of safety codes, you may be entitled to file a tort lawsuit. But the people responsible will work quickly to hide any evidence.
That's why you need an experienced construction accident attorney to represent you.  Someone who will quickly investigate your case and fight for you in the courtroom.
Hi my name is Mike Gertler. I'm a construction accident attorney in New Orleans and a managing partner of the Gertler Law Firm – a Personal Injury Law Firm based in New Orleans, Louisiana.
Construction Accidents Can Be Caused By:
Unsecured scaffolding;
Defective equipment;
Exposure to hazardous materials;
Fire and explosions;
Falling equipment;
And the list goes on.
As a construction accident attorney, I will help you hold the people who caused your injury responsible. I also will help you get the compensation you deserve.
You probably have a lot of questions. That's okay. Give me a call, share your story, and I'll explain your legal options. We work with both union and non-union workers.
So call our office at 504-581-6411…. Or if the call is long distance, use our toll-free number at 877-581-6411.
The call or meeting is confidential – and absolutely FREE.
Our firm operates on a contingency fee basis. If we move forward on your case, we do not charge for our services unless we succeed in getting you a settlement or are successful in the courtroom. If there is no award or settlement, you won't have to pay for any costs or expenses related to your case.