New Orleans Car Accident Attorneys
If You've Been Hurt in a Car Accident, You Need a Qualified Attorney Who Knows How to Get You the Compensation You Deserve.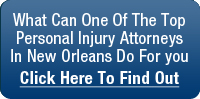 It all happened so fast. You were driving down the road, and a car smashed into you. Your life was changed forever.
Whether it was an individual coming home from work or an employee driving the company van, you're the one whose life was shattered.
Injuries from a car accident can be anything from bruises to broken bones to a fractured skull. If you were seriously injured, you could be facing high medical bills, lost wages and a long recovery.
Victims of serious car accidents may never be able to return to their previous job. Especially if they experienced brain trauma.
You're angry, scared, and tired. The insurance company will urge you to accept whatever compensation it thinks is "fair". Often, it's in their favor, not yours.
You need to focus on recovering. You don't have the time or the energy to argue with the insurance company. You need a car accident attorney who will do the research, and get you the compensation you deserve.
Hi, my name is Mike Gertler. I'm a car accident attorney in New Orleans and a managing partner of the Gertler Law Firm – a Personal Injury Law Firm based in New Orleans, Louisiana.
Our firm has helped numerous car accident victims. We will help you hold the reckless driver responsible and get the help you need.
You May Be Entitled To Compensation For:
Lost wages;
Medical expenses;
Pain and suffering;
Future surgeries and treatments;
Property damage;
And other damages.
We understand you're overwhelmed right now. You may not even be sure you want to file a lawsuit for your serious auto accident. That's okay. Give us a call, tell us what happened, and we'll explain your legal options.
The call is free, and you're under no obligation. We're here to help you navigate this difficult time and find the best choice for you.
Please call our office at 504-581-6411…. Or if the call is long distance, use our toll-free number at 877-581-6411.
The call or meeting is confidential – and absolutely FREE.
Our firm operates on a contingency fee basis. If we move forward on your case, we do not charge for our services unless we succeed in getting you a settlement or are successful in the courtroom. If there is no award or settlement, you won't have to pay for any costs or expenses related to your case.