Were You or Your Child Injured During Delivery?
The birth of your child is supposed to be a time of joy.  Not heartache.  If you or your healthy baby is injured during delivery, it can leave you angry, worried and searching for answers.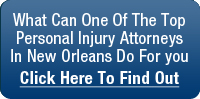 While accidents happen during childbirth, many times they are preventable.  And the injuries that occur can be serious and require long-term care.
Common Birth Injuries Include:
Cerebral Palsy;
Bleeding in the brain;
Injury to brain cells from lack of oxygen;
Facial nerve damage; and
Skull fractures.
You and your child are paying for someone else's mistake.  You need someone who can study the medical records and find the truth.  Was the doctor negligent?  Could the nurses have done a better job?
You need an experienced and qualified birth injury attorney who understands how to handle your unique case.
Hi, my name is Mike Gertler.   I'm a birth injury attorney in New Orleans and a managing partner of the Gertler Law Firm – a Personal Injury Law Firm based in New Orleans, Louisiana.
You may not be sure your child's injury was the doctor or nurse's fault.  You may have questions about how to bring a case or what compensation you could be entitled to.
Call me today for a free consultation.  We'll discuss your case, and I'll make sure you understand your legal options.  If you or your child were harmed because of doctor or hospital negligence, I'll help you get the compensation and justice you deserve.
Please call our office at 504-581-6411…. Or if the call is long distance, use our toll-free number at 877-581-6411.
The call or meeting is confidential – and absolutely FREE.
Our firm operates on a contingency fee basis. If we move forward on your case, we do not charge for our services unless we succeed in getting you a settlement or are successful in the courtroom.  If there is no award or settlement, you won't have to pay for any costs or expenses related to your case.