Leola M. Anderson, Esq.
E-mail: landerson@gertlerfirm.com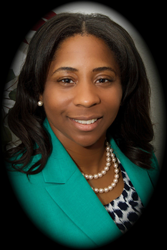 Leola Anderson is a 2006 Loyola University New Orleans, College of Law graduate who has obtained valuable litigation experience in her over ten years of practicing law.
Ms. Anderson joined the Gertler Law Firm in 2008 and was selected for inclusion in the 2014-2017 Louisiana Rising Stare lists, which honor the best Louisiana lawyers under age 40 and those who have practiced less than 10 years.
Prior to joining Gertler Law Firm, Ms. Anderson practiced in the area of insurance defense defending large institutional and governmental entities. She also served as an intern for the Louisiana State Court of Appeals, Fourth Circuit for the Honorable David S. Gorbaty.
Ms. Anderson has significant litigation experience, including successfully obtaining large jury trial verdicts.
Ms. Anderson also has significant appellate court experience, including successfully obtaining reversal of lower courts judgments in several circuits of the Louisiana State Courts of Appeals.
As a novel issue before the Louisiana State Court of Appeals, First Circuit, Ms. Anderson successfully argued that a viable cause of action existed against hospitals in redhibition for the sale and implant of defective medical devices that were approved by the Federal Drug Administration as a 510K device.
This judgment is significant as it effectively prevents, as a cross-the-board strategy, out-of-state conglomerate manufacturers from removing cases from the local state courts when the non-diverse in-state hospital defendant is a party to the suit.
Additionally, Ms. Anderson has significant experience before the Louisiana Supreme Court. In fact, she successfully argued before the La. Supreme Court on a novel issue that the Division of Administration and the Patient's Compensation Fund acted unconstitutionally in receiving and processing medical malpractice complaints arbitrarily whereby the office impermissibly delayed the receiving and processing of faxed complaints until a staff member actually retrieved the complaint from its in-house fax machine.
In addition to her state court practice, Ms. Anderson has practiced before the United States District Court, Eastern District of Louisiana, United States Bankruptcy Court, Eastern District and United States Bankruptcy Court, Western District of Louisiana, Lafayette – Opelousas Division, including successfully obtaining Abstention on a claim that was pending before the state court but transferred to the federal court as a bankruptcy claim.
A native of St. Bernard Parish, prior to attending law school, she worked as an accountant and grant procurement assistant for a research institution at the University of New Orleans. In 2014, Ms. Anderson was a judicial candidate for District Court in St. Bernard Parish.
Since 2006, Ms. Anderson has devoted her time and energy to disadvantage youths. She presently serves as the Youth Pastor of Abundant Life Tabernacle Full Gospel Baptist Church, Pastor Tyrone G. Jefferson. She is also an executive member of the Simply Divine Social Aid and Pleasure Club and mentor to its Ladies in Waiting Foundation.
Ms. Anderson is a single mother of one son, namely Tijh N. Bell.
Representative Cases:
In 2015, Ms. Anderson won a $495,000.00 jury verdict for a client who was severely injured as a result of a motor vehicle accident.
In 2013, Ms. Anderson obtained $215,000.00 settlement, one week before trial, against an owner, architectural designer, and construction company for the ownership and negligent construction and design of a handicap ramp that violated the Americans with Disability Act.
Education:
Loyola University School of Law, J.D., 2006
University of New Orleans, B.S. in Accounting, 1999
Practice Areas