About The Gertler Law Firm
Background
The law firm, Gertler & Gertler, was founded by Judge David Gertler and his son, M. H. "Mike" Gertler in 1975. In 1994, Mike's oldest son, Louis Gertler, joined the firm and Josh Gertler, his youngest son, joined the firm in 2010.  Currently, the Gertler Law Firm is among the most prominent law firms in New Orleans in the areas of personal injury, product liability and toxic torts.
Legal Innovators
The Gertler Law Firm has been at the forefront of personal injury lawsuits in Louisiana, representing numerous individuals with asbestosis and mesothelioma claims.  They were the first to prosecute silicosis lawsuits and product liability suits against manufacturers of respirators.
The Gertler Law Firm was also a lead firm in obtaining an unprecedented judgment against the tobacco industry, which ordered several tobacco companies to establish a $241 million cessation program for the citizens of Louisiana.
Gertler Law Firm Clients
Over the last 30-plus years, the Gertler Law Firm has represented thousands of clients in many diverse areas of law.  Its clients have included plant workers at the local Johns-Manville and National Gypsum plants, foundry workers throughout Louisiana, and local labor unions.
Notable Achievements

The attorneys with the Gertler Law Firm have attained impressive results for their clients.  As a result of a number of damage awards exceeding one million dollars, the Gertler Firm is a member of the Million Dollars Advocates Forum.
Leaders & Contributers
The attorneys with the Gertler Law Firm are leaders in their field and have been recognized by various prestigious institutions.  Its partners have lectured at seminars sponsored by the Louisiana Association for Justice and Mealey's.  Additionally, they have lectured at Tulane Law School on numerous subjects, including trial advocacy skills.
Appellate Experience
The Gertler Law Firm has significant appellate experience, which includes the Louisiana Supreme Court and the United States Fifth Circuit Court of Appeals, as well as in appellate courts in other states.  Lawyers from the Gertler Law Firm appear in numerous reported decisions.
Commitment
The Gertler Law Firm's only goal is seeking justice for its clients.  Every case is litigated with integrity, a strong sense of compassion and commitment to the protection of its clients' rights.
Honors & Awards
A number of honors and awards have been bestowed upon the Gertler Law Firm's partners.
2005 Trial Lawyer of the Year Award Finalists
Mike and Louis Gertler were finalists for the 2005 Trial Lawyer of the Year Award in 2005 presented by the Trial Lawyers for Public Justice.  Mike and Louis earned this honor for their role in securing a groundbreaking jury verdict that ordered the tobacco industry to fund a 10-year Louisiana smoking cessation program totaling $241 million.
Best Lawyers in Employment and Labor Law & Product Liability Litigation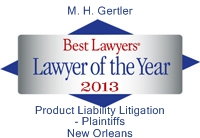 Mike Gertler was recognized in "The Best Lawyers in America", published by Woodward/White Inc., as one of America's Best Lawyers in the Field of Labor and Employment Law.  He was also selected Best Lawyers' 2013 New Orleans Product Liability Litigation – Plaintiffs "Lawyer of the Year."
Best Law Firm for Personal Injury Litigation and
Product Liability Litigation

The Gertler Law Firm was listed in "Best Law Firms in the New Orleans Metropolitan Area" for Personal Injury Litigation and Product Liability Litigation by the Best Lawyers publication and U.S. News & World Report.
Top 100 Trial Lawyers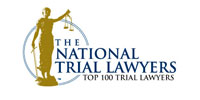 Mike and Louis Gertler were selected as one of the Top 100 Trial Lawyers by The National Trial Lawyers.
Louisiana Super Lawyers

Both Louis Gertler and Mike Gertler were both selected for inclusion in Louisiana Super Lawyers.
Who's Who in America and American Law

Mike Gertler has been selected a Who's Who in America and a Who's Who in American Law.
Louisiana Life Magazine

Mike Gertler and Louis Gertler were chosen Top Attorneys in Louisiana for 2011 by Louisiana Life Magazine.