New Orleans Personal Injury Attorneys
Gertler Law Firm
Deadline to Register for Stryker $1 Billion Dollar Hip Implant Settlement Fund Has Been Extended. Call Now!
Since 1975, the Gertler Law Firm has represented plaintiffs pursuing personal injury litigation in New Orleans and throughout the state of Louisiana.


We have earned our reputation as successful litigators in regard to wrongful death claims, traumatic brain injury claims, product liability and medical malpractice lawsuits, as well as in mesothelioma and asbestos-related lawsuits.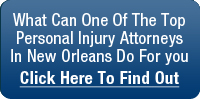 The Gertler Law Firm was also a lead firm in the recent, unprecedented judgment against the tobacco industry, which ordered several tobacco companies to establish a $241 million cessation program for the citizens of Louisiana.
The Gertler firm was listed in "Best Law Firms in the New Orleans Metropolitan Area" for Personal Injury Litigation and Product Liability Litigation by the Best Lawyers publication and U.S. News & World Report in 2010.  It's partners are members of The American Trial Lawyers Association's Top 100 Trial Lawyers and were selected for inclusion in Louisiana Super Lawyers.
If you require professionalism and years of experience in a personal injury or product liability matter, we invite you to call us at 504-581-6411 or 1-877-581-6411 if the call is long distance.